---
INTRODUCTION
AI-driven healthcare to secure competitive advantage
Is the use of artificial intelligence(AI) in healthcare key to overcoming inefficiencies of scale seen across the healthcare service delivery landscape today? As health providers make investments in digital transformation, the adoption of AI-enabled automation is becoming widespread, bringing incremental improvements that promise a competitive advantage.
Digital transformation in the healthcare sector is challenging due to the myriad stakeholders involved, reluctance to move on from antiquated systems, and the perceived resource drain.
It is no secret that healthcare service providers are struggling with staff burnout, skills shortages, and attrition, making it extremely difficult to maintain business as usual and deliver patients the quality of care their organizations are known for. To maximize clinical outcomes, executive leaders must make intelligent decisions about resource allocation, staffing needs, discharge planning, and managing inpatient capacities.
America invested $4.1 trillion in healthcare in 2021, but whether those investments genuinely drive patient-centrism and value-based care treatment is the question.
According to research conducted by Humana Chief Medical Officer William Schrank and correlated by industry watchdog groups such as The Institute for Healthcare Improvement — as much as $1 trillion of all the money spent on healthcare in the United States on an annual basis is wasted across the following domains:
Administrative complexity ($265.6 billion)
Pricing failure ($230.7 billion to $240.5 billion)
Loss of care delivery ($102.4 billion to $165.7 billion)
Over-treatment or low-value care ($75.7 billion to $101.2 billion)
Fraud and abuse ($58.5 billion to $83.9 billion)
Failure of care coordination ($27.2 billion to $78.2)
Enterprise leaders in healthcare need to rethink priorities and work aggressively toward AI-induced digital transformation of the industry to achieve better outcomes for patients and the provider networks that serve them.
AUTOMATION
Implementing intelligent automation to gain efficiency
Inefficient healthcare services adversely impact patient care. Patients may even forgo their treatment plans to avoid interactions with inconvenient and imbalanced clinical care systems. This ultimately hurts the image of the provider.
What is inefficiency - how is it reflected in healthcare?
A failure to make the best use of resources and time to achieve maximum productivity is inefficiency. Inefficiency manifests across healthcare networks in the form of:
Longer wait times
Longer in-hospital stays
Patient diversions
Hospital networks can achieve a great deal by better leveraging the internal data and health technology solutions already at their organization's disposal. To make the most of health-related data, hospitals need to build intelligent systems that are able to pull insights from electronic health records, customer relationship management, workforce management, and other health management technology solutions into a single source of truth.
Machine learning (ML), a part of AI, helps to do exactly this. ML algorithms manage larger datasets that are beyond humans and that deliver genuine business intelligence insights that propel agile operational decision-making.
Data-driven decision-making can help to improve operational inadequacies by empowering hospital staff to have real-time visibility needed to make mission-critical decisions on the fly.
Disruptive technologies like robotic process automation(RPA), AI, and business process management (BPM) - together constituting intelligent automation (IA) -make it possible to shift from reactive to proactive operational decision-making capabilities.
What is intelligent automation- how does it help?
IA, also called cognitive automation, is the use of automation technologies –AI, BPM, and RPA – to streamline and scale decision-making across organizations. Intelligent automation simplifies processes, frees up resources, and improves operational efficiencies. It is leveraged and complemented with new technologies such as:
Edge AI: Allows computations close to where data is collected.
Digital twin: Digital version of a person, process, or product.
Natural language processing: Understanding text and spoken words.
Augmented analytics: Enabling insights through data analysis.
Optical character recognition: Machine reading of text in any form.
Generative AI: Generating new text and images based on input models.
Computer vision: Obtaining meaningful data from visual inputs.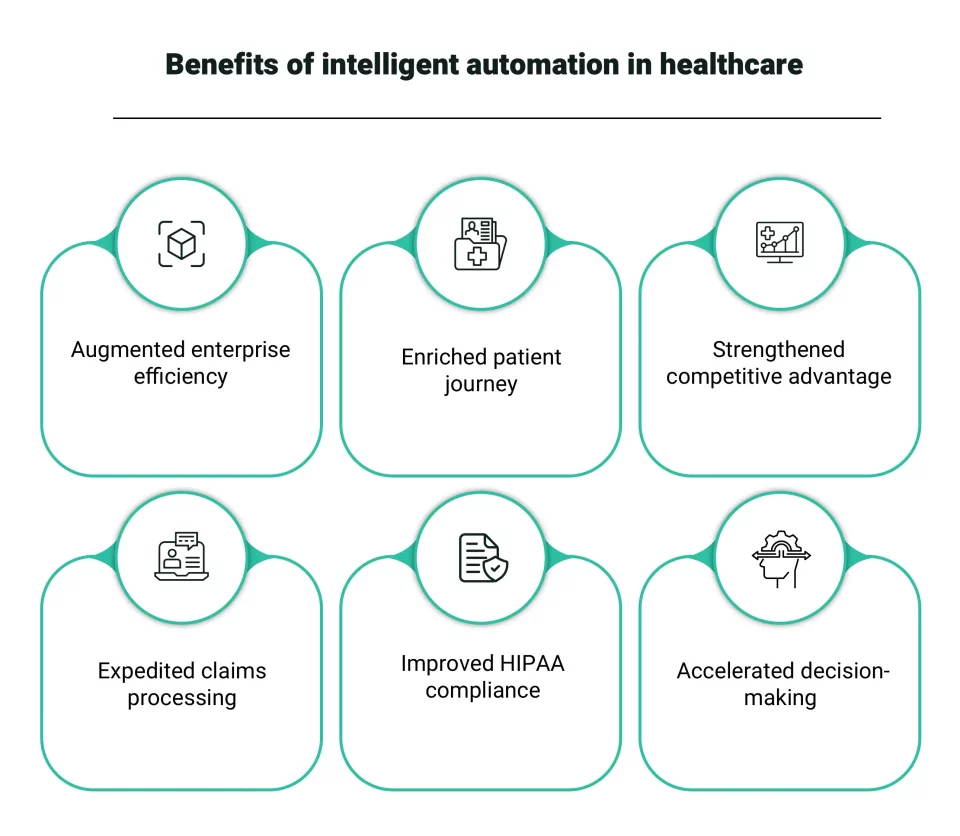 Intelligent automation boosts AI-powered healthcare operations
USE CASES
AI-backed healthcare automation -use cases
Intelligent automation, also known as hyper-automation, can potentially drive 5-10% cost savings—roughly between $200 billion and $360 billion annually in 2019 dollars —by 2027, according to a paper published by the National Bureau of Economic Research.
Building better patient journeys through digitization
AI-powered automation expedites data extraction and securely directs the flow of patient health information.
It helps to send updates to encourage patients to engage in their care and provide patient-generated health data.
ML is increasing the accuracy of communicative, innovative assistant solutions to handle repetitive customer queries and empower patient-centered medical care. It provides answers to customer questions and provides conversational frameworks to handle a wide range of administrative and human resources tasks.
Automated chatbot solutions provide a user-friendly and intuitive method of managing healthcare services. AI-powered chatbots using generative AI speech recognition and natural language processing transform how patients connect with medical resources.
Improving enterprise productivity through optimized workflows
AI augments operational efficiencies at scale through automation. Automation improves accuracy and delivers a quality culture of continuous improvement.
AI also shifts the focus of work to more complex tasks. Healthcare organizations can save money on human capital by automating workflows and freeing top performers to handle more mission-critical tasks.
AI transforms healthcare services as automation powered by AI unlocks enterprise value and secures competitive advantage.
AI-driven automation saves healthcare organizations time and money with RPA.
RPA significantly reduces the time and human capital expenditure needed to handle some of the most critical business processes for securing profitability.
RPA helps to accelerate and streamline revenue cycle management processes. It helps by expediting complex claims processing demands with intelligent automation solutions. It also helps to detect instances of insurance fraud and malfeasance quickly.
Delivering best practices for HIPAA regulatory compliance
Globally, cyber-attacks increased by 38% in 2022 compared to 2021. Incidents of ransomware, phishing operations, and malware attacks targeting healthcare and resulting in loss of patient health information (PHI) have reached a high watermark.
Regal Medical Group, Cerebral, and Zoll Medical Corporation are just three healthcare and medical enterprises that lost precious patient information to data breaches. If investigations prove failure to comply with HIPAA regulations to protect PHI, penalties can cost $100 to $100,000 for each violation.
RPA empowers healthcare organizations to have a much deeper understanding of what is happening across their networks in real time due to activity logs and processes in place to deliver HIPAA compliance.
Support healthcare decision-making with bots
Artificial intelligence-driven bots are transforming how healthcare professionals work with information to drive more effective medical decision-making.
Intelligent bots deliver these clear benefits for healthcare businesses:
Automate and optimize challenging and time-consuming manual tasks.
Reduce instances of human errors when working with large technical chunks of qualitative and quantitative data.
Expedite the time needed for extra critical data streams.
Enhance the utility of generative AI and chatbots.
Advanced data analysis capabilities help doctors and clinical teams to understand their patients and deliver better medical outcomes. AI automation also boosts healthcare business intelligence and data-driven medical decision-making, data governance, medical care planning, and discovery and clinical trials for new medications.
CONCLUSION
AI-supported automation benefits all healthcare stakeholders
Thus, AI-backed automation promises to revolutionize healthcare services for all stakeholders. If healthcare organizations lower operational costs with improved decision-making, clinicians can speed up diagnosis and design optimal treatment pathways. Patients can definitely expect better healthcare services across the US, as AI-induced automation solutions lead to huge improvements in efficiencies at scale.