---
INTRODUCTION
Introducing medical practice management software
Modern medical practice involves overseeing varied complex administrative and operational management tasks. Governing these functions can often become challenging for healthcare enterprises as they attempt to navigate between effective patient care and routine management.
Medical practice management software assists physicians in streamlining the administrative aspects of healthcare or clinical management effectively, helping them to prioritize their patient treatment plan.
DEFINITION
What is medical practice management software?
A custom medical practice management software is designed to assist medical practices and healthcare providers in organizing their operations in a systemized manner. From scheduling appointments, tracking patient information, managing electronic health data to billing, payment processing, and more, the software automates these functions efficiently.
Healthcare administrators can immensely benefit from practice management software as it optimizes the routine activities of their medical facility by improving the overall efficiency of the practice and allowing them to focus more on patient care and use their resources efficiently.
A specialized medical practice management software can also integrate with electronic health records (EHR) and patient portals through standardized interfaces. The integration allows seamless information sharing and communication between healthcare staff, physicians, and patients creating a perfect relational symbiosis between the three. The software can also be designed to address the specific needs of different medical specialties with different practice sizes.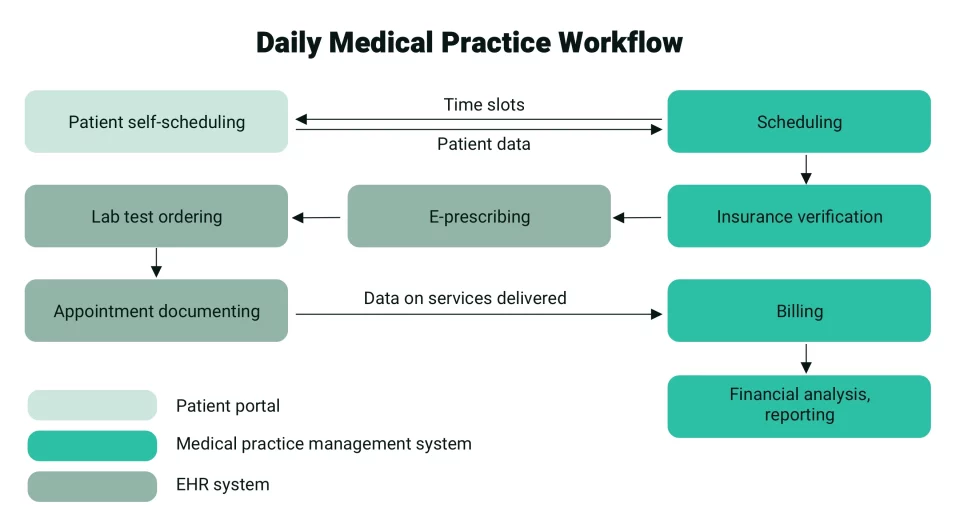 Medical practice management (PM)
FEATURES
Key medical practice management software features
In today's digitized world, where the healthcare industry is making breakthroughs with automation, it has become crucial to adapt to modern medical practices to offer premium care to patients. A custom medical practice management software improves operational efficiency of a hospital, clinic, or healthcare enterprise through its varied features that include:
Scheduling and Appointments
Healthcare staff can efficiently manage patient appointments, view physicians' schedules, and can easily reschedule or cancel appointments with this feature. The software also allows healthcare providers to oversee and automate recurring appointments and even facilitates sending appointment reminders to patients. A streamlined scheduling and appointment operation reduces wait times and improves patient flow.
Billing and Claims
A practice management software regulates patient billing procedures by generating, processing, and tracking the payment status. The software eases pressure off medical staff by managing the accounting aspect of the billing and claims operations, allowing the healthcare providers to center their attention on enhanced patient care.
Reporting and Analytics
It is imperative for healthcare providers to gauge the performance of their medical practice to assess the overall functioning of the facility. Custom medical practice management software provides valuable insights and data analysis to generate comprehensive reports, assisting the facility in identifying trends, patient demographics, and other key performance indicators to make informed and data-driven decisions.
Insurance Verification
Checking patient insurance availability and coverage becomes a cumbersome task for healthcare providers obstructing a steady workflow. With the insurance verification feature of the software, medical staff can swiftly streamline the process by automating patient insurance eligibility and coverage verification, avoiding billing issues.
Patient Communication
Maintaining an efficient patient communication system is key to enhancing patient satisfaction. With this feature, healthcare providers can maintain a centralized database of patient records, including their demographics, medical history, contact details, insurance information, and other relevant details. The feature also allows patients to communicate directly on the portal with their healthcare providers, enhancing patient engagement.
Workflow Automation
Optimizing the operations workflow is a key priority for healthcare enterprises. This feature regulates all repetitive tasks by reducing manual intervention and improving efficiency. You can store and manage digital documents, including consent forms, patient files, and insurance-related documents, with ease. Workflow automation makes the practice more organized and responsive to patient needs.
Primary benefits of medical management software
CONSIDERATION
What to consider when developing medical practice management system
Developing a comprehensive medical practice management system is crucial to support the success of a healthcare enterprise. A customized system requires deliberate planning and consideration of multiple key factors to ensure it meets the requirements of healthcare providers, their staff, and patients simultaneously. The following are some of the key considerations to note while designing a medical practice management system:
Integrations
Designing a system that facilitates seamless integration with other healthcare systems like EHR, laboratory systems, billing systems, and more is critical in enabling data exchange and collaboration. These integrations with pre-existing healthcare automated systems in a facility ensure that clinical information is automatically available to administrative staff in a quick span of time, improving patient care and stable functioning of the healthcare enterprise.
HIPAA Compliance
A major aspect of crafting a medical practice management system is ensuring patient data privacy and security. Therefore, it is imperative for such a system to comply with relevant healthcare regulations and standards like the Health Insurance Portability and Accountability Act (HIPAA). It is important to consider strong encryption, securing authentication, and access control while implementing robust security measures to safeguard sensitive patient data.
Usability
Understanding and addressing the specific requirements of different system users, including healthcare providers, administrative staff, and patients, is key to designing an efficient medical practice management system. An effect system permits customization options to accommodate the user's needs and their unique workflows in accordance with their different medical practice preferences.
Scalability
The capacity for expansion and growth makes a practice management system highly efficient as it considers the potential for future growth and adapts to it. Designing a scalable system that adjusts to a health enterprise's need for expansion over time along with its success is optimum for seamless functioning.
With increased digitized system incorporation in the healthcare industry, the future of medical practice management software carries boundless potential. Similar systems are already in place in many healthcare practices. However, futuristic enterprises are increasingly adapting to their patient and facility needs and incorporating custom medical management software that delivers technology-driven solutions and enhances efficiency and patient care.