---
INTRODUCTION
Introducing mental health EHR software
With the increasing application of data and innovative technology in the mental health industry, it has become essential for such healthcare enterprises to upgrade their record and analytical systems. Balancing managing patient records, tracking their mental disorder management progress, and planning their care simultaneously can be an arduous process for mental health care physicians.
A mental health electronic Health Record (EHR) software assists in easing the pressure off them by giving easy access to patient data and streamlining routine operations while allowing them to focus on patient care.
DEFINITION
What is a mental health EHR software?
Traditional paper-based methods to record patient history, treatment lines and track clinical outcomes are time-consuming, cumbersome and error-prone. A patient who is suffering mental health issues is traumatized if he has to narrate his problems and answer probing questions each time he visits a new facility or specialist for treatment. A mental health EHR software captures all the details of the condition digitally and may be retrieved anytime. It saves both the patient and the provider precious time and stress involved in recording the case history repeatedly.
A specialized mental health EHR software is designed to deliver the resources, tools, and workflows to manage care coordination, engage patients, safely secure personal health information, and deliver measurable cost savings. A mental health EHR software achieves this feat by automating essential compliance, revenue cycle management, and health informatics functions across your enterprise.
Mental health EHR benefits patient care significantly. Software designed to address mental health challenges and enhance patient quality of life using advanced user interface design, gamification, and advanced capabilities such as machine learning shows real promise in helping patients address a wide range of challenging mental health diagnoses.
IMPORTANCE
Why is mental health EHR software important?
Mental health is a cornerstone of holistic health and wellness, contributing significantly to an individual's success, which benefits their community. By improving the quality and efficiency of clinical mental health services using digital technologies, we can build stronger, safer, and more prosperous communities.
For many patients, digital health applications provide a vital social linkage connecting a home- or hospital-bound individual to opportunities that catalyze their health, wellness, and healing. Mental health EHR software offers clinical teams the tools needed to diagnose better, treat, and manage severe diagnoses by improving operational efficiencies and facilitating cost saving.
EHR software streamlines patient care, reduces provider burnout, delivers remote hybrid work processes, and leverages automation. It assists mental healthcare providers  in expediting critical activities such as maintaining patient records, completing compliance obligations, and addressing other aspects of enterprise resource planning.
Specifically in terms of patient care pathways, a custom mental health EHR software is capable of:
Building new workflows that complement new treatment plans: As new technology-aided and R&D backed treatment methods emerge, a traditional EHR solution may not be able to keep pace. Specific treatment chart notes, detailed patient digital intake and patient results tracking and many other parameters best known to practitioners who have clinical experience with new therapies are needed.
Providing device-agnostic access: Doctors, nurses and other paramedical staff should be able to carry their own devices. Plugging in to the custom-built mental health EHR software is possible even from the patient's bedside.
Monitoring across treatment points: A custom mental health EHR software has the capacity to accommodate close tracking both from the medical and behavioural point of view to cover medico legal liabilities.
Evidence-based treatment: A standard EHR may not have the ability to allow close follow-ups of treatment-resistant and higher acuity conditions. A custom EHR on the other hand provides clinicians wider scope to carry out responsibilities like charting and reporting to the patient and the wider medical community on outcomes.
Patient feedback through app: A custom-build mental EHR software invariably includes a patient engagement and communication module. It helps practitioners get referrals, through reviews given by patients. Doctors can also detect patient mood through questionnaires and before-and-after treatment graphs, which guide positive patient outcomes.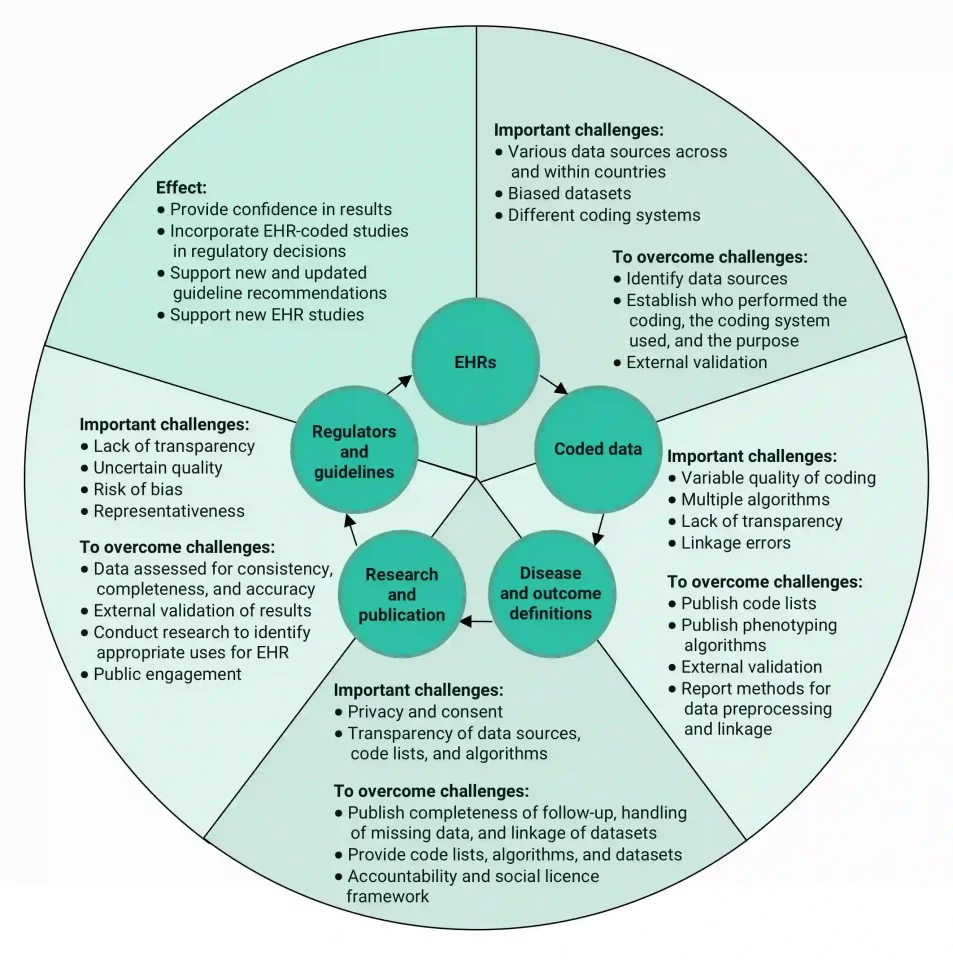 Key challenges and the paths to improvement leading to sustainable impact from EHR-based research studies. EHR=electronic health-care record.
BENEFITS
Advantages of using mental health EHR software
Mental health practice models can be as individual and personalized as the patients. Custom mental health EHR software benefits healthcare practices by providing a holistic solution to improve remote patient care, scheduling, billing, revenue cycle management, compliance, and chronic mental health diagnoses by enhancing patient compliance with medical guidelines.
According to a study by the American Journal of Managed Care, patients treated in hospitals with advanced EHRs cost, on average, $731, or 9.66%, less than patients admitted to hospitals without advanced EHRs.
In another study by the Office of the National Coordinator for Health Information76% of patients reported that EHRs make it easier to obtain medications. 90% claimed they rarely or occasionally find their prescriptions are not ready when they go to the pharmacy.
The following are some of the most compelling benefits of custom mental health EHR software solutions and their importance in helping your organization thrive: 
Deliver better communication linking your patients and providers
EHR tools are a vital link connecting patients to their providers, allowing for remote care management, virtual visits, ePrescription services, the management of personal health information, and access to more person-centered medical services.
Patients prefer the utility of mental health EHR tools. 
Streamline remote clinical mental health care management services
EHR solutions enhance critical mental health operations such as patient intake scheduling, prescription planning, care management, in-patient care plans, outpatient aftercare patient engagement, and other vital administrative tasks.
Strengthen data security to safeguard PHI
A comprehensive EHR software solution provides patients with secured access to their health data while providing a scalable framework to fuel safe data sharing across your enterprise.
With data breaches targeting health information on the rise, it is essential to deliver modern digital health tools that are safe and secure.
Automation enhance efficiencies of scales to unlock enterprise value
Automation advances are helping mental health practitioners such as psychologists, occupational therapists, psychiatrists, and other providers improve the clinical workflows driving their success.

Unlock enterprise value by increasing the overall effectiveness and culture of continuous quality improvement with your EHR tools for mental health services.
Secure your organization's competitive advantage
The mental health practice environment is becoming more competitive. With ready availability of automated patient support, patients are increasingly seeking essential services online.

Providing a holistic mental health software is the most powerful way for your organization to secure new patients, enhance profitability, and transform operations through robust digital transformation.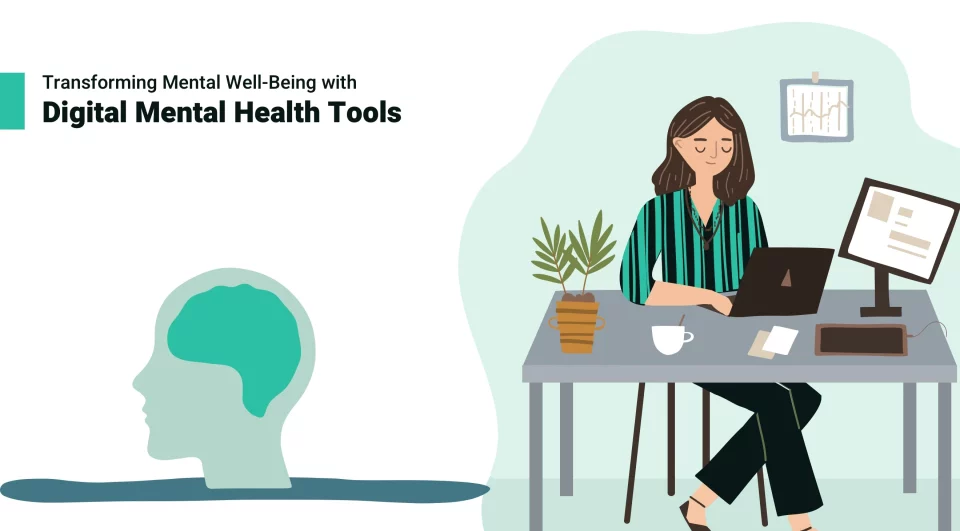 DEVELOPMENT
How to develop the right mental health EHR software
Building better mental health EHR solutions starts with analyzing your organizational workflows and finding the best ways to leverage digital capabilities to deliver more effective services across your digital health tools.
The following are some of the functions and focus areas to consider when building your organization's digital health tools for mental health patients:
Streamline HIPAA compliance to reduce enterprise risk

Healthcare organizations face a heightened cyber-security risk due to the value placed on personal health information by criminal organizations. Phishing scams, hacking attacks, and ransomware events leading to data breaches threaten success.
It is essential to deliver virtual care and remote health tools that enhance the documentation, data exchange, and best practices of Health Insurance Portability and Accountability Act (HIPAA) compliance. To avoid cyber attack risks, it is critical to use custom mental health tools that provide the best data governance practices to secure your investments and reduce the liability risks of data loss.
Leverage structured data to improve healthcare operations
Data science and health informatics are the most important departments in today's modern hospital practice environments.

The best mental health EHR solutions provide the means for mental health teams to manage structured data more efficiently to drive personal and demographic insights leading to better medical services and quality of care.
Shift enterprise resources to remote accessible cloud storage
Deliver HIPAA and high-tech-compliant data solutions to safely store patient health information using on-premises and serverless cloud storage. Provide the frameworks for securely sharing health information across your organizational footing without compromising security.
Build more engaging digital patient journeys
With the increased usage of digital health fronts, patients are increasingly seeking more engaging interfaces when it comes to web applications, mobile solutions, and digital products for easy usability.

Prioritize patient satisfaction and build more engaging and rewarding digital experiences to engage your patients in their care using better mental health EHR software.
Deliver remote medical services to expand your organization's reach 
Virtual care solutions like telehealth are becoming the new normal of remote healthcare services. Expanding your organization's mental health services across digital applications and web portals helps to strengthen your patient's commitment to your services.
Build a more robust and competitive healthcare enterprise with custom mental health solutions.
THE FUTURE
Adapt to futuristic mental health operations
Clinical care professionals have developed a preference for digital healthcare solutions,  while patients continue to ask for the availability of digital features.
Mental health care management teams are transforming services using capabilities such as artificial intelligence-powered chatbots, robotic process automation, gamification, and machine learning to deliver next-generation patient care journeys.
Take your mental health services to the next level by building custom software solutions that satisfy your end-users. Transform clinical workflows, contain costs, and deliver a more efficient healthcare enterprise by releasing world-class digital health software.
Everyone deserves an opportunity to overcome adversity and develop the life skills needed to succeed in a fast-moving world. Mental health services are a vital lifeline connecting patients to communities of care and support.
Deliver custom mental health EHR tools to upgrade your services, secure your position, and leverage technology to fuel innovation.