---
INTRODUCTION
Why use custom software solutions in the healthcare domain
Healthcare technology is rapidly transforming how physicians diagnose, treat, and manage patient care. Sensor-enabled monitoring of vitals, ICU activities, ambulance movement, and medical equipment has given rise to the Internet of Medical Things (IoMT), including devices and apps that are linked to healthcare information technology systems. With cloud storage and machine to machine communication boosting growth,the global market value of IoMT in 2022 was $ 61.56 billion and is estimated to reach $516.40 billion by 2032.
The IoMT improves patient care by providing access to real-time data, driving more effective medical decision-making, more focused diagnoses, less invasive treatments, and better medical outcomes.
As physicians, clinics, and hospitals continue to adopt new medical device technologies and practice management applications, there is scope for updating legacy software and integrating customized software, to embrace digital transformation and transform patient care.
Healthcare enterprises are large and complex organizations with different processes, cultures, and needs across specific clinical specialties and business units. Custom software solutions deliver measurable benefits to help medical and healthcare service providers increase clinical efficiency, reduce costs, and deliver better workflows for both patients and their physicians. If you are in the business, do not make the mistake of buying expensive one-size-fits-all solutions. Surely you will agree that there is something different and unique in the services you deliver and that fetches you a competitive edge in the areas of telemedicine and telehealth such as:
Electronic Health Records
Medical Equipment Management
Healthcare and wearable technology apps
Hospital Management Software Development
Medical Imaging Software
Medical Billing Software Solutions
Healthcare Revenue Cycle Management Software
Patient Management Software
Medical Research Software
Medical Database Solution
E-Prescribing Software
Pharmacy Management Software
Read this blog, to learn more about the importance and benefits of custom software versus packaged solutions for healthcare enterprises.
COMPARISON
Packaged software vs customized solutions
Custom software development is the process of designing, creating, deploying and maintaining software for a specific set of users, functions or organizations. It is different from off-the-shelf software packages that cater to common requirements or similar needs, as it incorporates features that address unique requirements. This calls for active participation of in-house technical teams and subject matter experts. It is always advisable to bring on board a proven customized software development partner who specializes in healthcare industry products, when you launch digital transformation projects. In a nutshell remember that:
Off-the-shelf software is generic and made to fulfill requirements of entire industries and different businesses, whereas customized software has specific features tailored to optimize business processes in healthcare.
While packaged software may be integrated into your systems, customized solutions are made compatible to healthcare work processes and workflows.
Packaged software may comprise features that you will never need or use, while customized healthcare solutions can automate tasks, integrate processes and expand features to suit your needs.
Off-the-shelf healthcare software cater to larger business requirements, while customized software can be personalized to answer the specific demands of every healthcare stakeholder.
Packaged software is not scalable, whereas customizable software is always an investment for future scalability keeping pace with healthcare business growth.
Packaged software can prove to be expensive as license has to be renewed, but use of customized solutions is economical and effective.
Packaged software cannot offer the level of security that customized solutions can build into your apps and devices for healthcare data safety.
Unlike general use packaged software, healthcare industry customized software ensures total compliance with regulations and standards.
IMPORTANCE
Importance of custom software development for healthcare businesses
The healthcare industry is undergoing rapid development as digital technologies, cloud-powered services, and mobile applications become as reliable practice tools as the stethoscope was to family doctors in earlier generations.
Many healthcare organizations use a variety of time-consuming, paperwork-driven manual processes. In other practice environments, professionals have struggled to make off-the-box solutions work, only to abandon them when they couldn't deliver the features and benefits their end users needed.
Custom software solutions invigorate healthcare organizations to innovate core processes and deliver clinical professionals the resources needed to transform healthcare and medical operations.
BENEFICIARIES
Types of healthcare businesses that can benefit from custom software development
Custom healthcare software benefits every type of organization connected to the community health matrix.
Here are some of the healthcare businesses that are implementing custom software solutions to improve their clinical efficiency, reduce costs, and leverage digital transformation to deliver better services for patients and work environments for their teams:
Hospitals: EHR/EMR solutions, hospital information systems (HIS), and digital patient engagement portals for patients are some examples of custom software for hospitals.
Specialist clinics: Custom medical practice solutions, medical device and software integrations, and remote patient monitoring tools are examples of customized solutions for specialists such as surgeons, pediatric specialists, or internal medicine practitioners.
Pharmacies: Digital prescription software, pharmacy operations management tools, and telemedicine applications are solutions for pharmaceutical retail businesses.
Community health networks: Health and wellness tracking applications, digital portals for community health resources such as parks, pools, and courses, and databases with community health information to educate and inform patient consumers are some custom solutions for community health networks, municipal governments, and NGOs.
Digital health start-ups: Many vibrant business ideas are coming to life as digital health start-ups leverage mobile and web software development services, digital product development, and team augmentation to deliver game-changing applications, APIs, and integrations.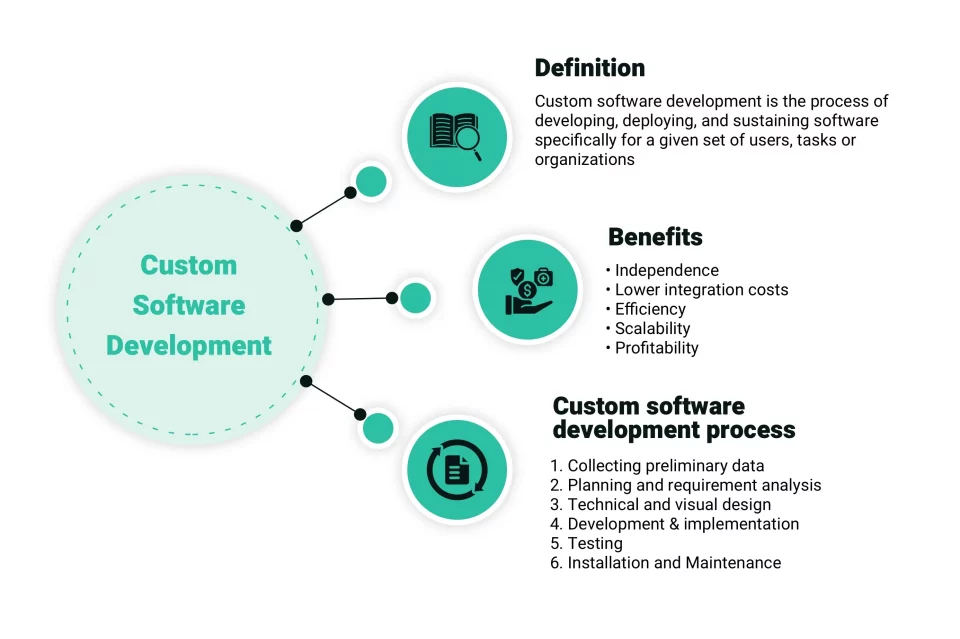 What is custom software development?
BENEFITS
5 key benefits of custom software development
Custom software development services empower healthcare enterprises to build world-class digital experiences for their patient consumers, providers, staff, vendors, and other partners connected to community health systems.
While many providers are completing technology investments to secure advanced capabilities such as robotic process automation, digitalization, interoperability, and better data governance frameworks, every practice environment is unique.
Custom software solutions empower healthcare providers to enhance their business processes, refine their medical services, and transform operations.
Here are five key benefits healthcare organizations enjoy when they complete strategic investments to purchase custom software solutions, legacy software updates, and healthcare technology integrations:
Enhance operational efficiencies
One of the most exciting areas of innovation driving the adoption of the IoMT is the opportunity to combine complex medical, business, demographic, and other data sets with learning about, improving, and streamlining healthcare operations management.
Custom software solutions invigorate healthcare organizations to learn more about what has been working and what needs to improve and create systems for optimizing performance using a data-driven approach.
Deliver laser-focused solutions
Every practice environment is unique. Many physicians have preferences that guide their work face-to-face with their patients.
Custom software solutions deliver the configurability and functionality needed to lean into your organization's unique challenges and provide laser-focused solutions that genuinely enhance your practices and work with patients.Custom software development services for healthcare allow your organization to improve its core processes, workflows, and platforms to meet your needs and refine your practice.
Build an end-to-end digital health ecosystem
To deliver the healthcare innovation of the future, we need to ensure interoperable, intelligent and efficient systems.
Custom software solutions allow your organization to optimize legacy solutions successfully, integrate new software and hardware resources, and transform work processes with laser-focused mobile and web applications designed for the unique needs of your teams and end-users.
Leverage the full potential of technology to transform practice
Digital acceleration is already fueling innovation at the world's most successful healthcare enterprises.
The pace of innovation quickens as medical device manufacturers, software development teams, medical professionals, and business specialists collaborate to deliver world-changing digital solutions to transform healthcare.
Ignite your organization's next growth stage by leaning into significant challenges to transform your core processes by leveraging automation, artificial reality, advanced data science, and many more technologies to benefit your business and practice landscape.
Secure competitive advantage
The healthcare business landscape is becoming increasingly competitive. Your organization's digital services, internally for your staff and externally for the end-users, constitute a significant opportunity to conquer new market segments and ensure profitability.
The future of healthcare is digital, and custom software development is the best way to deliver the resources your teams need to optimize performance. Build a stronger and more resilient organization with custom healthcare technology solutions tailored to your needs and unique use cases.
Instead of trying to make an off-the-shelf solution work, build the features, functions, compliance, and usability your organization needs.